About Me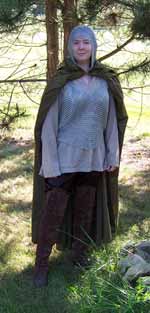 Despite college taking up most of my time, I do enjoy working with lots and lots of little metal rings during the few moments of spare time I can steal. Of course, I'm always happy to hear from people who want to learn more about chain mail.
When I'm not at school or playing with heavy metal, I'm working at a dog day care. I have one fish, Brain.
Other time wasters I enjoy are reading, drawing, and writing fantasy. Of course, I also love medieval movies!
CONTACT
You can either contact me through e-mail at medieval_miss@cityofmists.com, or by sending me a note through the contact page.